Tiden flyger fram och det är redan dags för årets tredje tävling här hos oss på Hobbyworld.

Den här månaden vill vi att ni ska skapa ett alster med någonting stämplat på, typ av alster är helt valfritt.
Tävlingen pågår under tiden 1 - 21/3 och ditt bidrag, som ska vara nyskapat för den här tävlingen, mailas till
helena@hobbyworld.se
.
Vi vill att ditt foto ska vara 500 pxl brett.
För att få vara med i vår tävling vill vi att du även bloggar ditt alster i din blogg och länkar till vår tävling.
OBS! Din bloggadress måste finnas med i ditt tävlingsmail.
Vi kommer att utse tre stycken vinnare som vinner varsitt Stamping Gear Intro Kit (artikelnr 65-32019) från Inkadinkado, värde ca 195 kr/vinnare.
De tre vinnarna kommer att publiceras här i bloggen den 28/3 samt via mail.
Vi hoppas att många härliga alster kommer att skapas och mailas in till oss!
Vårt fin-fina DesignTeam visar här nedan lite inspirationsalster:
Material: Bazzill Basics Mono Fwan T8-850
Basic Grey Hipster Radical hip-4096
Basic Grey Hipster Neato hip-4090
Prima Marketing Flowers Tessitura 562748
Prima Marketing Clear Stamp Rondelle 559458
Marianne Design Stamps EC0119
Marianna Design Paper Roses Beautiful Brown RB2211
Spellbinders Nestabilities Opulent Ovals S5-160
Spellbinders Shapeabilities Damask Accents S5-080
Material/Supplies:
My Minds Eye Boy Crazy 6x6 Paper Pad
My Minds Eye Boy Crazy Decorative Buttons
My Minds Eye Boy Crazy Decorative Tape
My Minds Eye Boy Crazy Enamel Dots
My Minds Eye Boy Crazy Point the Way Paper
My Minds Eye Boy Crazy Stamps
My Minds Eye Boy Crazy Sticker Accessory Sheet
Epiphany Crafts Brad Settings Round 14 Silver
Epiphany Crafts Shape Studio Round 14
Epiphany Crafts Bubble Caps Clear Round 14
Silhouette Cameo
Bazzil Basics Cardstock Black
Prima Marketing 8x10 Alphabet Stickers Romance Novel
Martha Stewart Scallop Dot Edge Punch
Sizzix Thinlits Dotty & Flowers
Scrapbook Adhesives 3D Foam Squares - White, Variety Pack

BG - Mint Julep paper and stickers
BG - Mint Julep vintage buttons
MS - Doily lace duet ribbons
MS - Paper trimmer
MS - Scoring board
Spellbinders - Borderabilities, A2 Scalloped borders one
Grand Calibur
MME - Stamped butterfly, Dolled Up favorite stamps
Scrapbook Adhesive taperunner
Katarina
Material:
Bazzill Basic- White
Bazzill basic- Java
Basic Grey.- kneehighs & Bowties chipboardstickers kne-4176
Basic Grey- Kneehighs & Bowties Bottlecap stickers kne-4203
Basic Grey- Kneehighs & Bowties diecut kne-4213
Basic Grey- Flair stickers soleil met-3932
Prima Stamp- Romance novel 559410
My Minds Eye-Washitape unforgettable CTB219
My Minds Eye- Labelstickers IC0144
Linda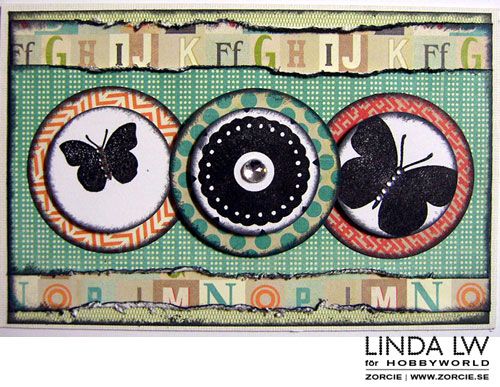 Materiallista:


Bazzill Basics - Cardstock
Basic Grey - Hey You 6x6" Paper pad #BBA-4068
MME - Memorable "Hello"Decorative Stamps #CTB144
Martha Stewart - Circle Cutter #M281056
Prima Marketing/Ingvilkd Bolme - Chalk Edger Black Coal #890995
Hobbyworld är en av de ledande distributörerna i Sverige och Norden inom hobby och hantverk. Våra leverantörer är välkända (ex Martha Stewart, EK Success, Bazzill, Prima Marketing, Basic Grey, Silhouette, My Minds Eye, Echo Park m fl) och deras produkter håller hög kvalitet. Återförsäljare till oss hittar du här!
----------------------------------------------------------------
This month you must use one or more stamps on your project, any kind project is welcome.
The challenge is running between 1 - 21/3 and your project should be made uniquely for this challenge and mailed to
helena@hobbyworld.se
.
The photo of your project must be 500 pxl wide.
To compete you must blog your project and link to our challenge
Write your blogaddress in your e-mail to Helena.
We are gonna choose three winners this month and the prices is a Stamping Gear Intro Kit from Inkadinkado.
The names of the winners are published in our blog on 28th of March and by mail.
We're hoping you have the creativity on top and will be create som gorgeous projects.
Our lovely DesignTeam gives you a ton of inspiration for this challenge - see above!
Hobbyworld is one of the leading wholesalers in Sweden and Northern Countries in hobby and crafts. Our brands are well-known (such as Martha Stewart, EK Success, Bazzill, Prima Marketing, Basic Grey, Silhouette, My Minds Eye, Echo Park m fl) and their products have high quality. Our retaliers you will find
here
!